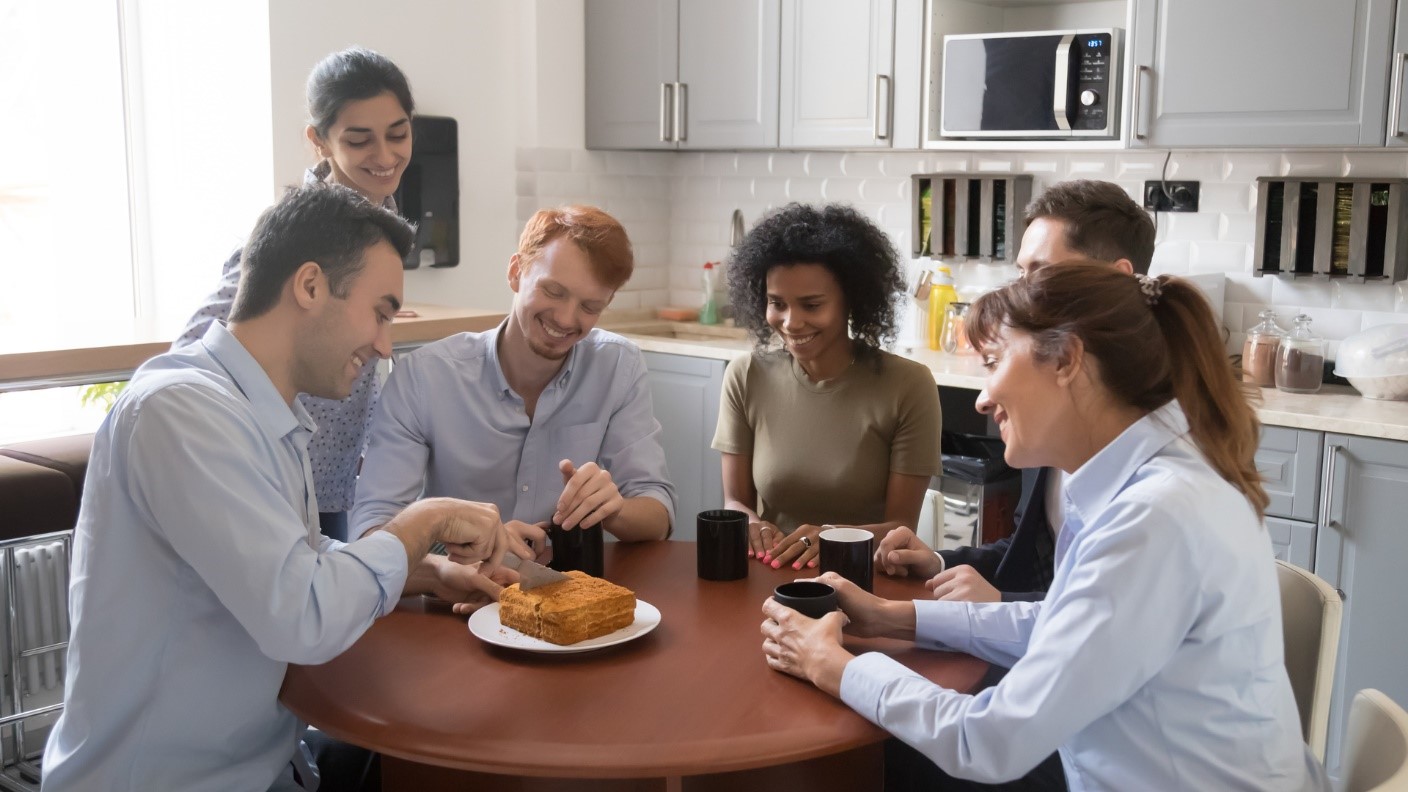 Of the many benefits that are offered to office employees, one that is often overlooked is the office kitchen. This is unfortunate as a growing trend of office workers is to bring their lunch to work. Doing so provides additional control over portion sizes and the ingredients going into their meal. Packing a lunch is also far less expensive than hitting the office cafeteria or running to a nearby restaurant, and that cost-saving extends beyond the cost of the food to time and gas as well.
With so many people spending less time leaving the office for lunch, employers should be looking at the office kitchen as an additional employee benefit. But, employees will only view it that way when the kitchen experience is one that makes them want to store, prepare, and enjoy their meals in that space.
Creating the perfect kitchen for your office environment
Perhaps the most important aspect of your office kitchen will tie to cleanliness. If the area is not well-maintained and cleaned, employees will be turned off to bringing their lunches each day. Not only does this negatively impact morale, but it also impacts productivity. When employees have an on-site place to store, prepare, and enjoy their food, they feel less rushed when enjoying the meal, but can also get back to work faster.
That said, incorporate a cleaning routine for your office staff. In most cases, organizations will leverage their outside cleaning crew to maintain the office kitchen as well. However, in many cases, these crews work in the evening and don't come in over the weekend. This means that by Monday morning, items stored in the refrigerator overnight can become a bit rancid. So, you may need to have your staff take turns on Fridays of each week to clean out the shared refrigerator. This will then ensure that your cleaning crew can get inside the refrigerator on Friday night to get it cleaned out and ready for the new week to come.
Ideally, your office kitchen should include the following items. However, if you need to start small and don't have the space of budget to do all of this, focus on the items in bold to help you get started.
Wash sink
Dry storage area
Clean cupboard spaces for shared items such as paper towels, napkins, salt and pepper containers, and cleaning supplies
Large countertop area where employees can get their meals prepped
Multiple microwaves so that multiple employees can warm up their meals at one time
Hotplate surfaces so that employees can cook on-site – electric griddles and hotplates make it easy for employees to whip up a quick meal using fresh ingredients
A large toaster oven
The large refrigerator that can store employee meals
Plastic gloves – great for those who might be making a meal for several colleagues (such as in the case when employees bring in some serious leftovers from a weekend party)
Dishwashing supplies including dish soap, kitchen gloves, and sponges
A large dishwasher if possible
Some long rectangular tables (or round depending on the space you need to fill) and comfortable chairs so that employees can sit and eat
Make your office kitchen a place that people will enjoy
Make sure that your office kitchen doesn't look like an afterthought. Use high-quality appliances and materials. Natural stone countertops, especially granite, create a professional and high-end look, and the added durability that comes with the countertop means that it will last longer, making it a great investment. It may not seem like a granite countertop will fit the bill for a budget-friendly office kitchen. And indeed, natural stone countertops are more expensive than some of their counterparts. For a granite counter, you can expect to pay anywhere from $45 to $200 per square foot, including installation. But you can get a more budget-friendly option if you use a ¾-inch thick stone instead of the more standard one and 3/4 -inch thickness.
You can also work with your contractor to look for remnant natural stone countertop pieces that might bring your overall cost down. And, when your contractor understands the look and feels you are going for, they can also help you to identify some lower-cost countertops that will complement the look of the countertops without breaking the bank.
Cabinets are often available on Craigslist and other public websites for a discount. Investing in some older but sturdy wooden can save you a bunch of money. And, they can be made to look like new by adding a fresh coat of paint and some simple cabinet hardware.
Since the need for cleanliness is also critical, look to install a simple backsplash underneath upper cabinets and above the countertop. This can create a nice dimensional look at a relatively low cost. And, it makes cleaning much easier as backsplash surfaces are often easier to wipe down than the painted sheetrock underneath it.
Don't make your employees eat at their desks
Though you can't stop this activity for everyone, when you provide a comfortable and functional office kitchen, your employees will be encouraged to step away. Taking some downtime mid-day to catch up on social media (on mobile devices and away from the desk) or enjoy a meal with some colleagues, or even grab a snack and get in a chapter from a favorite book, can decrease stress levels and improve employee morale and productivity.
Eating at your desk is not healthy. Sitting for hours on end at a desk can bring on a variety of health concerns, including heart disease, high blood pressure, and high cholesterol. And, those who eat at their desks regularly are more prone to diabetes, sore muscles, and other health concerns due to being so sedentary during the day.
Employees will appreciate knowing that their employer has done more than simply throw a few chairs, tables, and a refrigerator into a small space. With appliances, countertops, cabinets, tables, and chairs available at just about any price point within any budget, you can create an inviting space that your employees will love.